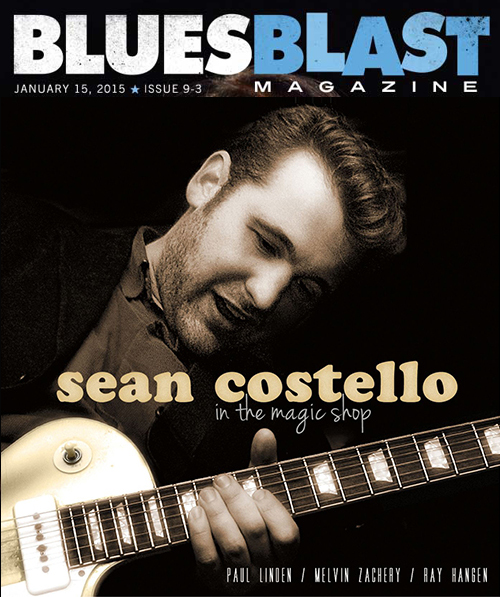 April 15th is not a great day. Oh, yes, Income Taxes are due then but that is not why I note the date. It is the day that a young and bright star of the blues left us. Sean Costello was on the eve of his 29th birthday when an accidental overdose took him from his family and us only a week after beginning an alcohol addiction program and being diagnosed with bi-polar disorder. Enveloped in depression, he had difficulty sleeping and told a friend he was taking something to help him sleep that fateful night. A shy and unassuming soul, Sean was also a premier blues guitar player, singer and songwriter. His family keeps his memory alive through the Sean Costello Memorial Fund for Bi-Polar Research and we can remember him through his music. This CD, recorded in Fall of 2005 and finally mixed this past Spring at the Magic Shop in New York City, was produced by Steve Rosenthal, engineered by Will Berlind and mastered by Jessica Thompson. It is sold as a fund raiser for Sean's fund which is cause enough to buy one (as I did). But even more so, it is a superb CD worth adding to any blues lovers' collection.
Costello begins with a soulful BB King tune- "It's My Own Fault." The stark guitar sound is sad and lonely. The band fills in thoughtfully as Costello bears his blues soul on his fret board. This is an instrumental for over three and a half minutes before Sean begins signing; it is masterfully done and is worth the price of the CD alone. Costello grits out the vocal lines in the last minute and then closes out the beginning of a great CD. His own "Can't Let Go" follows. Brian Jackson adds Wurlitzer and synthesizer and backing vocals were added to fill out the funky tune as Costello growls out the lead. A bouncy guitar line and beat complement each other as Sean sings of the love he can't let go of. "Hard Luck Woman," another original, follows. Costello's guitar and Linden's harp grind it out for us in this danceable and catchy cut. He takes it down a notch as Costello goes acoustic in a very Elvis style and Costello tells his lover to "Trust in Me." Beautifully done!  An old tune first recorded by Mildred Bailey in 1937, it was a small B-side hit for  Eddie Fisher and then Louis Jordan (both in 1951) and then was revived by Etta James in 1961.  This is a fantastic version!
"Feel Like I Ain't Got A Home" is an original where Costello lays it out on this this song made for driving with the top down and playing music loud. The music must be this song- I could blast this out and enjoy it any day while driving around! Fenton Robinson's "You Don't Know What Love Is" is next with some deep blues and then Bobby Womack's "Check It Out" follows that, a soul-filled and soulful number where Costello shows us more of what he's made of. What fine covers! He then stays soulful with "I Went Wrong," an original blues with stinging guitar and a great set of lyrics.
Rod Stewart? Why not? "You Wear It Well" adds Jim Zhivago on the 12-string National and Costello and the band gut out a really nice bluesy rendition. "Told Me A Lie" is some breathy and tasty slow blues while "Make A Move" is a bit funky. Both originals, they show Costello's diversity as a song writer and performer. He closes with "Fool's Paradise," the Johnny Fuller song. The lyrics are now almost eerie, with Costello hauntingly singing and playing. I can say it no better than the song itself. He sings:
I often think of the life I've led
And oh, it's a wonder, I ain't dead
Drinking and gambling, staying out all night
Living is a fool's paradise
My mother told me and my father told me too
Said my child, it's all catch up with you
Drinking and gambling, staying out all night
Living in a fool's paradise
Though I've learned my lesson
Like all fools I've met
Oh, I've learned things in this life
That I haven't forgotten yet
My father told me, my mother said it right
Said my son, you're ruining your life
Drinking and gambling, staying out all night
Living in a fool's paradise
Oh yeah, living in a fool's paradise
Joining Costello on this recording are Paul Linden on B3, harp and keys, Melvin Zachery on bass and Ray Hangen on drums. A few others perform here and there, too, but the foursome of Costello and these three comprise the main band. It took Rosenthal six years to get the gumption up to play these recordings again and then by Summer 2014 he had recompiled and re-created this masterful recording. Half new and half fine covers, this album gives us but a glimpse of what we've missed with the loss of this fine musician. Please add this recording to your collection. You will be glad you did and it also helps fund bi-polar research which hopefully will prevent this disease from consuming more fine humans like Sean.