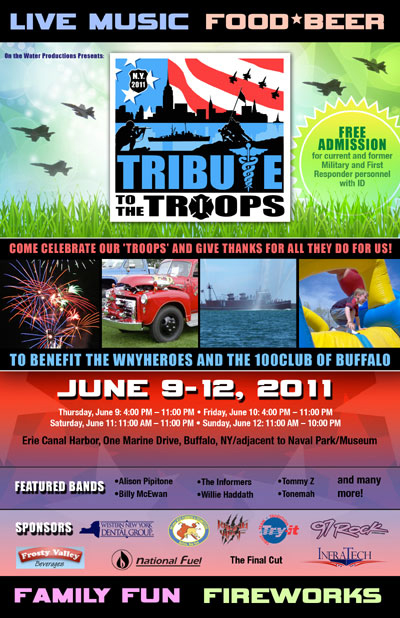 The evolution will not be trivialized – the movement to make Buffalo's waterfront a primary destination is on, and it's coming from all corners of our community.
While some events have been moved to the Central Wharf from other locations – i.e., Thursday at the Square from Lafayette Square and Pride Fest from Bidwell Park – public entities such as the U.S. Fish & Wildlife's Great Lakes Experience are creating new arms to their community outreach with the inaugural Great Lakes Experience Festival next Saturday, and private citizens such as Jason Riggs and Earl Springborn are welcoming families to the waterfront with the inaugural event of their On the Water Productions in the Tribute to the Troops, which kicks off tonight and runs through Sunday.
Offering 21 musical acts, kids activities, Saturday night fireworks, local food and drink vendors, and demonstrations by local first responders, Tribute to the Troops will benefit both WNYHeroes and the 100 Club of Buffalo through partial proceeds of the $5 admission as well as concessions. Tonight's kickoff is free for all, and the next three nights are free for all past/present military and first responders with ID. It marks the debut of On the Water, whose name was conceived as Riggs and Springborn sat beside Lake Erie discussing dreams to bring more people to the waterfront in ways that would benefit the entire community.
"We started talking about stuff we like to see," said Springborn, an Eden resident who works in National Fuel's security department. "We love carnivals, beer tents; we like being outside and seeing live music; and there are not a lot of venues around here that have live music on the water. We thought, 'let's do something with all local vendors and bands that would give back to the community.'"
When considering which community organizations to support, they hit home first – both Springborn and Riggs, who recently relocated to Buffalo from Pittsburgh, come from military families. "Jason's father was in the Navy as was my father, and my mom was in the Air Force," Springborn noted. "I lost both parents recently and thought that I'd never really thanked them for their service to country, so this is a way for me and our entire community to do so. We added the first responders because they're working for us every day here at home."
Springborn insisted that On the Water's commitment to community will continue with the next two events scheduled for this summer, as well as beyond. "Every event that we do will benefit some local organization that helps out Western New York," he said. "This first one is WNYHeroes and 100 Club because they support our armed forces and first responders; the next one will be for the Boys and Girls Clubs; and after that we're looking to support music programs in local schools. Giving back to the community is the biggest reason behind this."
The two future events are each set for the Outer Harbor grounds formerly occupied by The Pier – a carnival at the end of July, which Springborn urges to "think of it like Buffalo's version of Coney Island," and a "Summer's Last Bash" the weekend after Labor Day in September, for which they're looking for community organizations to support that involve music and education. The Good Neighborhood has pledged to help this effort – any suggestions can be left as a comment here or sent to seamus-at-thegoodneighborhood.com.
As for these next four days on the waterfront, On the Water's search for a diverse lineup of performers had to look no further than ubiquitous local drummer Ray Hangen, who had to look no further than his own calendar in booking bands – he's performing with a ridiculous 15 of the 21 acts. "It's crazy, I know, but I'm a workhorse," said the humble Hangen. "The love of music is gonna get me through."
"These are good, honest guys who really just want to have a big party and tribute to the troops – it's a very genuine subject close to their hearts," Hangen added. "They wanted the costs to families to be less than most events – they want to make money and raise money for the troops, of course, but it's meant to be easy for families to come down and enjoy."
Thursday:
5:15-6 Dee Adams
6:15-7:15 Rob Falgiano
7:30-8:30 Doug Morgano and Gretchen Schulz
8:45-10 Billy McEwen
Friday:
5:15-6:15 Mark Winsick
6:30-7:30 Leroy Townes
7:45-8:45 Blues Hounds
9-10 Nick Veltri R&B Review
Saturday:
11:30-12:30 Sugar Spoon
12:45-1:45 Leeron Zydeco
2-3 Dive House Union
3:15-4:15 Alison Pipitone Band
4:30-5:30 Police dog demonstration
5:45-7 Tommy Z
7:15-8:30 Tonemah
8:45-10 Willie Haddath
10 Fireworks
Sunday:
11:30-12:15 TBA
12:30-1:30 Informers
1:45-2:45 Civiletto Heading West
3-4 Big Wheelie
4:15-5:15 Police Dog Demonstration
5:30-6:30 Doug Yeomans & Lo Blu Flame
6:45-8 Win Lose or Draw
–Seamus Gallivan [The Good Neighborhood]