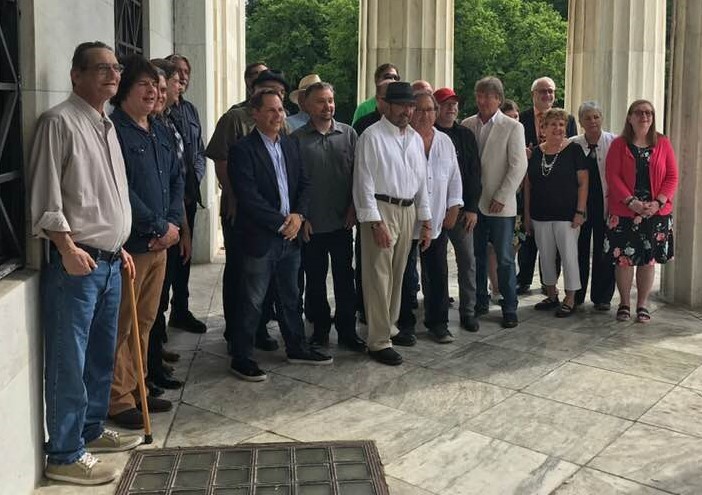 August 8, 2018
The co-writer of one of the biggest hits of the rock 'n roll era, a painter of the stars and a Stevie Wonder collaborator are among this year's 10 inductees into the Buffalo Music Hall of Fame. The inductees were officially unveiled during a special press conference held at the Buffalo History Museum on Wednesday, August 8, 2018.
The songwriter in question is Gary Baker, who co-wrote "I Swear," which was a Billboard No. 1 pop hit for 11 weeks for All-4-One in 1994 after hitting No. 1 on the country charts for John Michael Montgomery. Billboard rates the All-4-One version at No. 93 on its list of  "Greatest All-Time Hot 100 Songs."
The painter is Philip Burke, who is best known in the music world for his paintings for Rolling Stone Magazine, while the Stevie Wonder collaborator is Imhotep Gary Byrd, who had provided lyrics to songs on Wonder's mega-hit "Songs in the Key of Life" album.
BMHOF President Anthony Casuccio opened the ceremony with a few words. "This year's induction Gala has an incredible lineup of inductees," said Casuccio. "We are honored to be able to showcase such an amazing class of incredible individuals from the Western New York region."
The inductees will be formally honored at the 36th Buffalo Music Hall of Fame Induction Ceremony on Thursday, October 11, at Cardinal O'Hara Performing Arts Center, 39 Ohara Road, Tonawanda, NY 14150. The ceremony starts at 7:00 pm. Light snacks will be provided and beer, wine and pop, will be sold.
This is the third year that Cardinal O'Hara has hosted the Induction Ceremony Gala. Monies raised from the 2016 event went directly to the Cardinal O'Hara music department for the purchase and upkeep of the department's musical instruments. Funds raised in 2017 will be used towards a floor covering for the auditorium stage.
WGRZ Channel 2's Pete Gallivan will serve as the official host of this year's event. Buffalo Music Hall of Fame Board Member Carolyn Moser will serve as Chairperson of the Gala
2018 Inductees
President's Award – GARY BAKER: The song "I Swear" alone is enough to justify entry into the Buffalo Music Hall of Fame.  Gary Baker, a 1970 graduate of Lewiston-Porter High School, co-wrote that song, which sold some 20 million copies internationally between versions by pop group All 4-One and country star John Michael Montgomery. But Baker has done a lot more than that since he left Western New York in the 1970s.  He went from playing in the band for LeBlanc & Carr (who had a top 20 hit in 1978 with "Falling") to serving as music director for Marie Osmond's band. That was what he was doing when he wrote "I Swear" with songwriting partner Frank J. Myers. His other hits have included "I'm Already There," a No. 1 country song for Lonestar. He has also co-written hit songs for the Backstreet Boys, Alabama and Reba McEntire.

BUFFALO CHORAL ARTS SOCIETY:  Since its founding by Robert Schulz some 52 years ago, it seems the BCAS has gone everywhere. The 100-plus member chorus has done concerts across Europe; at the Mozarteum in Salzburg, Austria; Notre Dame de Paris in Paris, France; at the Normandy American Cemetery and Memorial;  as well as performances in Dublin, London, Vienna, Barcelona and Prague.  In the States, the group has performed at Carnegie Hall, the National Cathedral, Kenney Center and Walter Reed Veterans Hospital.   And, yes, they perform a lot of concerts around Western New York as well.  While Schulz was the founder, Marcia A. Giambrone Jr. has been the group's director for 30-plus years as it has become known as one of Buffalo's leading musical ambassadors.
Industry Award – PHILIP BURKE: Philip Burke is a rock star with a paintbrush. In fact, the Buffalo native has already been in the Rock 'n' Roll Hall of Fame. His exhibit, "The Color of Rock: The Art of Philip Burke," was on view at the Rock Hall in 2006  and 2007. It has traveled throughout the United States. While the Buffalo native has painted all kind of people in his distinctive style, it was his music paintings – many appearing in Rolling Stone magazine – that took him to the Cleveland Hall. Among his subjects have been Bruce Springsteen, the Beatles, Neil Young, Mick Jagger and Keith Richard, Bruno Mars … and the list just goes on and on. Among Buffalo performers he has painted have been Ani DeFranco,  Johnny Rzeznik of the Goo Goo Dolls and the Steam Donkeys.  In recent years he has returned to live in Western New York, where he has participated in Music Is Art.
IMHOTEP GARY BYRD: Gary Byrd's involvement with music is both as a legendary DJ and as a musician who has collaborated with Stevie Wonder and others. Byrd, a Buffalo native, started his radio career at Buffalo's WUFO-AM and then moved to WYSL.  Musically, Byrd provided lyrics for the songs "Village Ghetto Land" and "Black Man" on Steve Wonder's classic "Songs in the Key of Life" album in 1975. His song "The Crown," recorded as Gary Byrd & the GB Exerience (and featuring Wonder), reached No. 6 on the pop charts in England in 1983.  He has been a radio host in New York City for the past 35 years and currently hosts a music/talk program, "Global Beat/Global Black Experience," on WBAI-FM and a talk show on WLIB-AM.
Founder's Award – FARE TRADE: Fare Trade was one of the preeminent bands of the 1970s in Western New York, known for their mix of originals and covers and their southern rock sound.  The group recorded the single "Can't Get Through to You"/"Summerfest" on Goodtime Records at a time when very few local artists were putting out records. The band regrouped in 2010 for a reunion show and has been performing since, doing a limited number of feature shows along with some charity performances – and still drawing crowds. Band members include David Lee Frost (vocals, bass), David Buxton (guitar), John Kensinger (keyboards), John Pokrandt (guitar), Michael X. Runo (vocals, guitar) and Mark Terreri (vocals, drums).
Pioneer Award – DWANE HALL: Hall really is a man who needs almost no introduction. He's been leader of the Stone Country Band (recording at least two LPs and a single) for over 40 years. The group is already in the Hall of Fame. He runs the Sportsmens Tavern, which is arguably the area's best music venue (and which just received a national award saying it's the best in its field). Hall has also created a great recording studio. He led the charge to creating the Sportsmens Americana Music Foundation. He has helped revive Black Rock. His venue has hosted countless events for charity. On top of that, he still gets out and plays every summer on the lawn concert circuit (plus his regular gigs at the club).
RAY HANGEN:  Hangen is one of the best drummers in Western New York. That is, if you can find him in Western New York. He does a lot of touring and a lot of session work. He was known for his work with the late Sean Costello, recording three internationally released CDs with the guitarist and touring with him. He's currently the drummer for the Bruce Katz Band (which tours nationally and internationally), but seems to play in Buffalo every night that he's not touring.  Over the years he has played behind Joe Beard, Lurrie Bell, Eddie Kirkland, Lou Pride, Joe Louis Walker, Kenny "Blues Boss" Wayne, Brandon Santini, Ana Popovic and John Nemeth. Hangen has also played with Francine Reed, Bryan Lee, B3 organ great Tony Monaco, Grammy-award winning Tom Hambridge and blues harp legend Kim Wilson.
WILLIE MAY: Willie May is one of Western New York's best-known – and prolific – blues musicians. He has put out 19 recordings over the years, toured endlessly and kept a hand out to help young musicians (for example, Hayden Fogle and Evan Laedke) along the way. People who have played with him on his albums include James Cotton, Buffalo Music Hall of Famers Stan Szelest, Barbara St. Clair, Jim Wozniak and Ted Reinhardt, as well as a host of other Western New York all-stars (Ken Parker, Larry Cheely, Mr. Conrad, Mary Ramsay).
THE STEAM DONKEYS: The Steam Donkeys really are in a class by themselves, combining original songwriting, ensemble playing and individual virtuosity on a level rarely, if ever, seen together in Western New York. Along the way, they were prime movers in the creation of Buffalo's Americana scene, recording four CDs thus far and touring the Eastern half of the United States.  Singer Buck Quigley's songs have been covered by other Western New York artists, and Cathy Carfagna's version of the band's "If You Lose an Angel" was included in the music for "Nebraska," a film starring Bruce Dern that was nominated for six Academy Awards. The inducted band members include Quigley, drummer John Brady, guitarists Charlie Quill and Dave Kimball, fiddler Doug Moody, bassist John Weber, harmonica player Joe Mancuso and keyboardist Dan DeLano.
CHRIS TRAPPER: Not everybody gets the label "classic pop perfection" from the New York Times, but Chris Trapper's band, the Push Stars, did. But that's only a part of Trapper's extensive career. An Amherst High graduate and a Fredonia State alum, he moved to Boston almost 30 years ago to pursue his music career. Since then, he's released five CDs with the band and another nine on his own. He's toured extensively, including a 45-show stint this year that took him to Arizona, Massachusetts, Virginia, Colorado, Oklahoma, Texas, New York City, Rhode Island, Wisconsin, Illinois, Minnesota, Pennsylvania, New Jersey, Maine, California, New Hampsire, Washington, Maryland, Ohio, Michigan and Iowa.
The event is open to the public. Tickets are $20 and go on sale Wednesday, August 8 ($25 day of event) and will be available via www.buffalomusic.org. The event is presented by River Grill, Allentown Music and Main Mobility Inc.