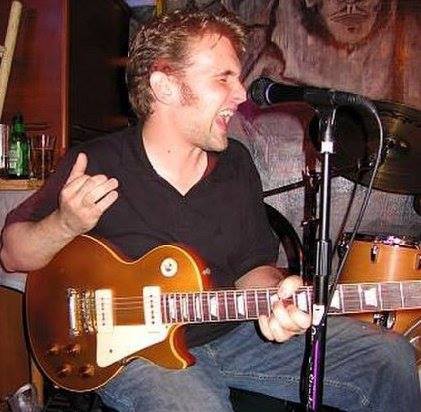 (Translated from Dutch)
Blues performer Sean Costello (16/4/79 – 15/4/08) was found dead in his 2008 hotel in Atlanta, on the eve of his 29th birthday. The recently published "In The Magic Shop" titled "Paul Linden, Melvin Zachery and Ray Hangen" immediately suggests that it's about a special edition and not like the "A Memorial Retrospective" (2009) previously published a compilation was with a chronological overview of what Sean had all released. "In The Magic Shop" is indeed special, because on this album we find twelve previously unpublished tracks that Costello recorded in the Magic Shop in New York together with the already named gentlemen. The producer of this album is none other than Steve Rosenthal, the Grammy winning producer of David Bowie, Coldplay, Norah Jones, Sean and other quantities. He and the distributor, Vizztone, donate all proceeds to Sean Costello Memorial Fund for Bi-Polar Research, the fund in honor of their beloved friend.
Sean Costello has already begun practicing music at an early age. At the age of eleven he played everything after Jimi Hendrix, Led Zeppelin and Stevie Ray Vaughan, but it was the raw Howlin Wolf's blues that changed his life. At the age of 14 he won the prestigious Blues Talent Contest at Beale Street in Memphis, Walhalla for the blues musician. During the International Blues Competition he became acquainted with Susan Tedeschi. With her and under her name he recorded the "Just Will not Burn" CD, which was nominated for a Grammy Award. With the exchange of obscure traditions and his own powerful songs, Costello drew attention to settling. His elusive guitar game and characteristic voice revitalize the traditions of the Chicago blues and the Southern Rhythm & Blues. His first album "Call The Cops" he picked up in '96 and that was immediately a success. Later, four other albums followed: "Cuttin 'In" (2000), "Moanin for Molasses" (2002), "Sean Costello" (2005) and "We Can Get Together" (2008). For this last album, he had found his accommodation at Delta Groove Music and that also had his consequences because "We Can Get Together" is strong!
The Philadelphia-based singer / guitarist has always been captivating us at his Gibson Les Paul. In addition, he was a guitarist's war of the musical balloon show of other blues men. He made his solos in the service of the song, even if it produces subordinate guitar play. Despite the predictable impact on Costello's popularity with blues fans, his death was a big shock, leaving him indelible. With "In The Magic Shop" we can now re-experience a lot, because on this album we only find sublime tracks, recorded in the fall of 2005 at The Magic Shop in New York, and only this year through the perfect mix of Brian Thorn now appeared on this album.
Making the musical traditions entirely self-evident, like BB King's "It's My Own Fault", Bobby Womack's "Check It Out" and Rod Stewart's "You Wear It Well" and in his own powerful songs, knows Costello's Never let the guitar arts dominate his songs and their soulful arrangements. The songs "Can not Let Go", "Hard Luck Woman", "Feel Like I'm Got Got A Home", "Told Me a Lie" also appeared 3 years later on the album "We Can Get Together" that he before the Delta Groove label was recorded and appeared just before he died. Together, "In The Magic Shop" contains 12 tracks in a mix of soulballads, funky shuffles and slow blues, with the influences of soul, R & B and even a bit of jazz are best audible. Supported by a class band, he shows the personality of a good singer-songwriter through the precise game and his smart, sometimes shaky voice. With this he puts a strong personal load in the texts. Dear people, buy this record because the proceeds from the record go to charity, but this is especially the work of an enthusiastic bluesman. Rest in peace, Sean.